Yutaka Japanese Restaurant has lots of choices other than Sushi, including Noodle dishes, Teriyaki and Tempura to name a few. The staff is friendly and even at 1pm the place was busy but they didn't miss a beat on service. It's tucked away in the corner. We heard there can be a wait in the evening and they don't take reservations. You can see from the smiles and the "thumbs up" that it was a hit with the RR group, and 5 stars all across. Yutaka Japanese Restaurant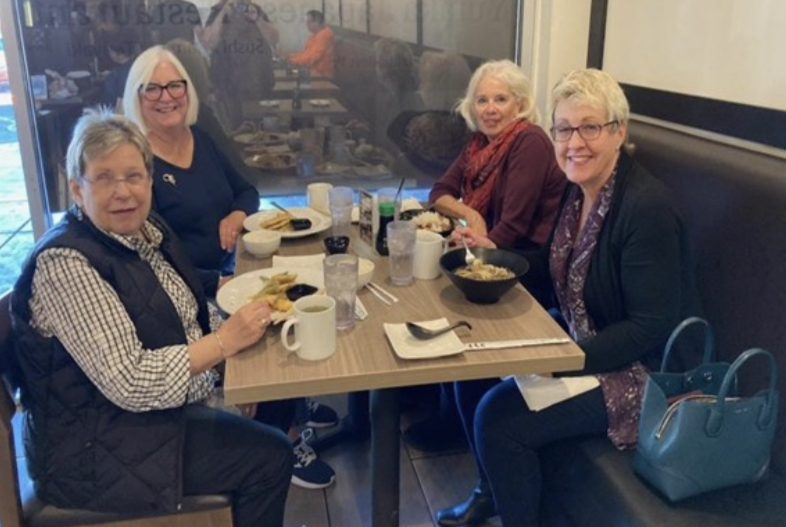 February: 
We had planned to go back to Café Chenar on the anniversary of our last visit, which was the day Russia invaded Ukraine. However they are closed and a new management is coming so we made a quick change and headed to TIMO on Central. (timocentral.com). It seems we weren't the only women's group that had that idea as the place was filled with tables of women! Basically ALL the food is cooked in a wood fired oven giving it that distinct and delicious flavor. We made a reservation online and got the OK for separate checks. They did not disappoint! Service was wonderful. We knew ahead of time that everything was prepared fresh so had a leisurely chat and catch-up as we were a group of 11. We ate indoors and enjoyed the coziness on a rare day that was gray in Phoenix.
Our dishes ranged from bruschetta to lamb chops and none of them disappointed. I think 3 of us ordered pizza to take home on top of eating lunch!