Our website is the best resource for Moon Valley Women's Club members. Members have access to Newsletters, the Events Calendar, the Directory, and plenty more! Check out our blog to explore our recent group events.
If you're interested in joining the club our dues are $30 per year. Please explore our site and go to our Join Us page!
Please fill out a PRINTABLE Membership Form by Clicking this Link!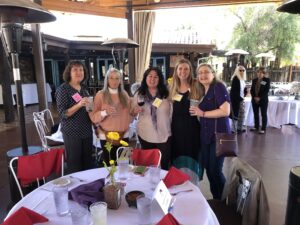 Moon Valley Women's Club is a social and service club founded in 1970 for women residing in and around the Moon Valley neighborhood in Phoenix, Arizona. In recent years, the club has welcomed more than 240 members, ranging in ages from 20's to 90's. There are dozens of activity groups to join.
Our Activity Groups include:  Five Book Clubs which meet on various days and times, Three Bridge Groups, Four Bunco Groups, Two Canasta Groups (daytime & evening), a Cribbage Group, an Euchre Group, a wonderful Gardening Club, a Progressive Hand & Foot Group, a Hearts Card Group, an active Hiking Club, an Investment Club, a Mah Jongg Group, a Matinee Friends group that will attend plays and events when possible, Two Mexican Train Domino Groups (daytime & evening),  a Museums and Special Events Group, a Needlework Group, a Painting Group, Two Pinochle Groups (daytime & evening), a Poker Group, a Restaurant Review Group, a Service Project Group, a Shanghai Card Group, a Walking Group, a very active Wine Tasting Group, a Group to plan our Annual Charity Auction and a group to help plan our 50th Anniversary Celebration.
Generally, the opening event for each club year is a luncheon held in September, where our Club President welcomes new and returning members and guests. Hopefully, with the pandemic, we will be at a place where we can meet in person this year.  This is also the time when many of the Club's Activity Groups begin meeting. Throughout the club year, we present monthly events with interesting programs. Past programs have included artists, fashion shows, musical entertainment, and antique and jewelry appraisals. Event & Luncheon attendance is open to members and their guests.
MVWC Service Project is the 501(c)(3) nonprofit arm of our organization. This group distributes money and purchased goods to deserving local activities that improve the quality of life for everyone in our community. Grants are awarded in the spring to small community groups like parent/teacher groups, scouts and other neighborhood organizations. Larger grants are awarded in the fall to other nonprofit organizations to support a specific project. All grant recipients are recommended and sponsored by a member of the Moon Valley Women's Club. Opportunities to volunteer include serving on the service project board, shopping for clothing and toys for our holiday adopt-a-family program, and filling shoeboxes with toiletries and making deliveries to a local shelter.
Are you interested in learning more about what we do?
Membership in the club is offered to women living within the Moon Valley boundaries or women who are sponsored by a member in good standing. Paid membership of $30 annually.
If you are new to the area, or maybe were a member in the past, we encourage you to attend one of our events, and take the opportunity to meet neighbors, make new friends and see what Moon Valley Women's Club has to offer!
Are you interested in joining the Moon Valley Women's Club? Please explore our site to learn more about us.  If you would like to join, please fill out a PRINTABLE Membership Form by Clicking this Link!   Click on the link below to fill out an Interest Form and a MVWC member will contact you to answer any questions that you have.
Membership is open to women living within our boundaries, which are comprised of the following streets: North side of Thunderbird Road, West side of Seventh Street, Homes on Paradise Lane/LeMarche Avenues, East of and including Moon Mountain and Coral Gables Estates, and South of Greenway including Moonlight Cove, Tamarac and Las Meridas.  Those prospective members residing outside of the set boundaries may be sponsored by a current member in good standing.